General Manager's Message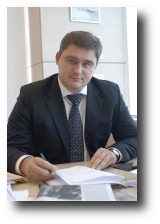 Dear colleagues and friends!
We are glad to welcome you to the site of Investment Promotion Agency of Rostov Region! We regard this Internet-resource as another effective tool for the attraction of business and revitalization of investment processes.
Have you ever considered Rostov Region as a territory where you can locate and develop your business? We invite you to look at the Don region from this point of view.
The Investment Promotion Agency works under state contract terms and today it is a key player of investment processes in Rostov Region. The status of Agency is determined by the Regional Law on Investments. Agency's services are free-of-charge for potential investors in the Don economy.
We are ready for cooperation. Rostov Region has all required potential for this, like resources, infrastructure, legally established preferences and reliable reputation. The Investment Promotion Agency, in its turn, is ready to offer profitable investment spheres, projects and provide advantageous conditions for business.
Welcome to Rostov Region! We offer our cooperation to you!
Igor Burakov
CEO,
Investment Promotion Agency
of the Rostov Region